Printing Your Limited Edition
Editions and the Law
It is normal in the art world for prints to be sold as part of a limited edition.  This tradition goes back to the early days of hand-printing.  Such prints are usually signed by the artist and editioned e.g. marked '6/25', meaning 'this is print number 6, and a maximum of 25 prints have been (or will be) made'.
In some parts of the world, e.g. in 17 states in the USA, it is a legal requirement for limited editions to be sold with a 'Certificate of Authenticity'.  Elsewhere, such certificates are not mandatory but they have become increasingly common.  In Europe, the sale of limited edition prints, (with or without a Certificate of Authenticity), is subject to consumer protection law and contract law.
If you decide to sell your prints as part of a limited edition, there are some guidelines to follow to ensure you remain on the right side of the law.  Note: the following content is based on our working knowledge of best practice; it does not purport to be legal advice.
By editioning a print, you are providing purchasers with a guarantee that their prints will have a certain degree of exclusivity, a certain rarity value limited to the number of prints in the edition.  This is why, all other things being equal, prints in a small edition will be perceived as being more valuable than those in a large edition.
Before you sell your first print from an edition, you should decide on the edition size.  Once you have sold the first print you should not alter the edition size.  To do so is a 'breach of contract' with those who have already purchased from the edition. By creating an edition, you cannot do anything that will detract from the value of the prints already sold.  For example, you cannot print the image in a calendar, or on a postcard, or the side of a mug, because doing so it is likely to lessen the perceived value of the editioned prints.  However, it is acceptable to print the image in an exhibition catalogue or a book or supply it to a magazine or newspaper for review, because all such actions are likely to enhance rather than detract from the value of the editioned prints.
American laws require that certain information must be provided in the Certificate of Authenticity.
Name of the artist
If the print was personally signed by the artist, or if not, how the signature/artist's name was affixed, and under whose authority
Description of the medium or process for creating the print
If the print was made using a photographic reproduction process (such as giclée or digital pigment print)
If the print was made from a master which produced a prior limited edition, or from a master that was itself made from a reproduction
Year the print was made.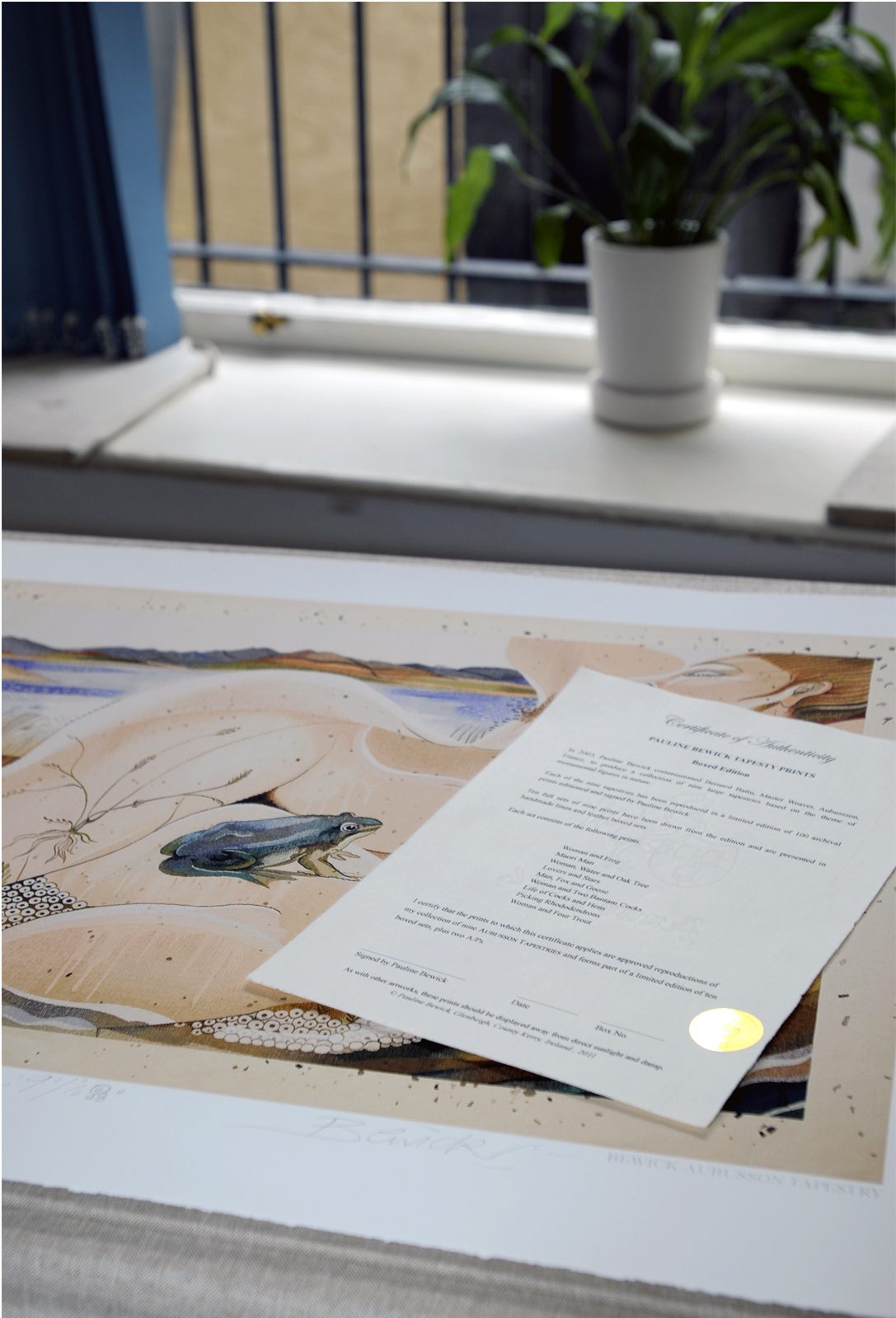 Traditional and Modern Ways of Editioning Prints
Traditionally, all prints in an edition were the same dimensions, and all were printed at the same time. It was also traditional practice to create a small number of 'artist's proofs (A/Ps) and printer's proofs (P/Ps) as part of the edition, e.g. a full description of an edition could be 'Edition of 100 prints with 5 A/Ps and two P/Ps'.
Since the development of digital printing, it is no longer a practical necessity to print all copies at the one time.  So, although the edition maybe for say 50 prints, they can be printed one at a time, whenever they are sold; digital printing allows for exact replicas to be printed on an as-needed basis.  It also allows for making prints of different sizes.  In modern times, the practice of including Printers Proofs in an edition has largely disappeared, despite the ongoing practical benefits they provide to the printer. So today, an edition might be described as follows: 'This is an edition of 50 prints, 10 at 61 cm x 61 cm (24" x 24") and 40 at 30 cm x 30 cm (approx. 12" x 12") with 5 A/Ps'.
The Hahnemühle Certificate of Authenticity
Many of the artists we work with use the Hahnemühle Certificate of Authenticity. It was designed to protect the security and genuineness of limited edition prints and reproductions and to reduce the risk of forgery.
Each certificate is made of premium deckle-edged Hahnemühle mould-made paper containing a Hahnemühle watermark and fluorescent security fibres.  A serialised numbered hologram seal is added to the certificate.  A second, identically numbered hologram seal, is added to the reverse side of the print.
The combination of certificate and hologram seals ensures that each Certificate of Authenticity relates to one particular print.
So, How Do You Get Started?
The simplest way to get started is to phone us on +353 1 454 5417 or e-mail us at Enquiries [@] inspirationalarts.ie.